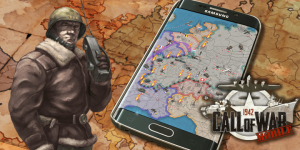 The Hamburg-based developer Bytro is opening up their most successful browser game, Call of War, to mobile browsers. With this update, the prolific German studio is getting in on the ground floor of a powerful trend, the move towards web apps and mobile browser games. The mobile version of Call of War is currently in open beta.
Call of War is a hardcore strategy game set in World War II, which was able to win over more than two million players worldwide. With this new port for mobile browsers, generals are now able to take the battlefield with them wherever they go. Checking your resources at the bus stop and sending troops to new areas? Bytro made it possible with Call of War, all without downloading an app. The studio has pooled its strengths in the last months in order to turn Call of War into an unforgettable experience, even on mobile devices. A complete redesign of the user interface made it possible to preserve every feature of the desktop version, while offering a completely new play experience.
The trend towards mobile devices continues. At the same time, more and more users are turning their backs on apps and switching over to browser games, which can be launched from inside messenger services. "The advantages are obvious: there are no downloads required, you can immediately start playing, whether on your desktop or your phone," says Felix Faber, CEO of Bytro. "HTML5-based messenger services offer completely new possibilities for players, especially when it comes to multiplayer games."
Call of War, which is currently in open beta, supports iOS devices from the iPhone 5 onwards and Android smartphones with Android 5 or higher.
Social media platforms like WeChat (China) or VKontakte (Russia) have long offered their users a wide variety of games that can be launched in mobile browsers directly from messenger services. In May, Facebook followed suit. The market for these games is enormous: Facebook's messenger alone has 1.2 billion users, all potential players for Instant Games. The technology behind these games is HTML5, the web standard for creating high-quality browser games with great performance. A perfect match for Bytro, who have been focusing on HTML5 games since 2009.
About Bytro Labs
Bytro Labs GmbH is a founder-managed company, which develops and publishes technically sophisticated, browser-based and mobile online games. By now, the games have 7 million registered users and are available in fifteen different languages. Bytro Labs was founded in 2009 by Felix Faber, Tobias Kringe and Christopher Lörken. They were decorated as "Founders of the Month" in June 2010 by the German state of Baden-Württemberg and with the "Technology Fast 50 Rising Stars" award by Deloitte in the fall of 2012. In 2013, the studio merged with the Swedish Stillfront Group, but still develops games under its own name.