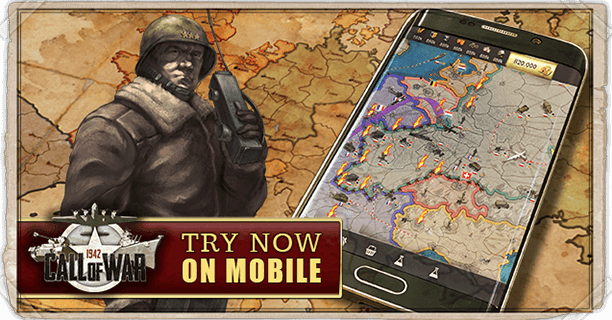 Bytro veröffentlicht native mobile Apps zum beliebten Multiplattform-Strategiespiel
Hamburg, 15. März 2018 | Dass echte Innovationen im umkämpften Mobilegames-Markt noch möglich sind, beweist der Hamburger Spieleentwickler Bytro mit den Mobile-Apps zum erfolgreichen PC-Spiel Call of War, die am 20. März weltweit in elf Sprachen starten. Denn das im Zweiten Weltkrieg angesiedelte Strategiespiel ist das erste echte MMO Grand Strategy-Spiel, das für Smartphone und Tablet verfügbar ist.
Die Spieler übernehmen die militärische Führung der wichtigsten Kriegsnationen und tauchen gemeinsam mit bis zu 100 realen Gegnern in die aufreibendsten Schlachtszenarien des größten aller Kriege ein. Dabei gilt es, ganze Regionen zu erobern, Bündnisse zu schmieden, die eigene Wirtschaftsleistung auszubauen und die geheimen Waffensysteme des Zweiten Weltkrieges zu erforschen. Die Spieler entscheiden selbst, mit welcher Strategie sie ihre Ziele durchsetzen wollen – in intelligenten Allianzen oder mit rücksichtsloser Durchsetzung eigener Interessen, mit dem Einsatz hochentwickelter Waffensysteme oder in stumpfen, aber effektiven Materialschlachten. Das Spiel läuft in Echtzeit; Runden können Wochen dauern.
Das Besondere an Call Of War ist neben dem anspruchsvollen Gameplay in authentischem Setting der konsequente Crossplattform-Ansatz, erklärt Entwickler Bytro.
"Unsere Spieler, über alle Versionen hinweg bereits drei Millionen, haben echte Plattform-Freiheit und können mit einem einzigen Account ihr Spiel im Browser, auf Steam, im Mobile-Browser, in der Android- oder iOS-App fortsetzen. Darauf sind wir besonders stolz", so Tobias Kringe, Geschäftsführer bei Bytro.
Dank HTML5-Technologie sind für die Nutzung im Browser keine Plug-ins nötig.
Neben der anspruchsvollen technischen Realisierung setzt Call Of War auf maximalen User-Komfort und abwechslungsreiche Gefechte in historisch korrekter Umsetzung. Die Spieler bewegen ihre Einheiten gleichzeitig in multiplen Durchgängen und können so unterschiedliche Strategien und Taktiken ausprobieren. Insbesondere Fans von Strategie-Brettspielen werden voll auf ihre Kosten kommen, so die Erwartung des Hamburger Spieleanbieters.
Über Bytro Labs
Bytro Labs GmbH ist ein gründergeführtes Unternehmen, das anspruchsvolle browserbasierte Onlinespiele sowie Mobile Games entwickelt und betreibt. Aktuell haben die Spiele von Bytro Labs 7 Millionen registrierte Spieler und sind in fünfzehn verschiedenen Sprachen verfügbar. Bytro Labs wurde 2009 von Felix Faber, Tobias Kringe und Christopher Lörken gegründet. Im Juni 2010 wurden sie durch das Land Baden-Württemberg mit dem Preis "Gründer des Monats" ausgezeichnet und im Herbst 2012 mit dem "Technology Fast 50 Rising Stars" Award von Deloitte. 2013 fusionierte das Studio mit der schwedischen Stillfront Gruppe, entwickelt jedoch weiterhin unter eigenem Namen Spiele.