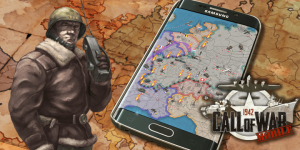 Das Hamburger Spielestudio Bytro bietet sein bislang erfolgreichstes Browserspiel Call of War erstmals auch für mobile Browser an. Damit setzt die erfolgreiche deutsche Games-Schmiede im Bereich browserbasierter Strategiespiele früh auf einen mächtigen Trend auf, der Bewegung zu Web-Apps und Browsergames für mobile Geräte. Derzeit befindet sich die Mobilversion von Call of War im Betatest.
Call of War ist ein im Zweiten Weltkrieg angesiedeltes Hardcore-Strategiespiel, das weltweit bereits gut zwei Millionen Spieler in seinen Bann zieht. Mit der Portierung auf mobile Browser können die Generäle nun erstmals auch unterwegs in die Schlacht ziehen. An der Bushaltestelle mal eben die Ressourcen checken oder Bodentruppen in neue Gebiete versenden? Mit Call of War macht Bytro das problemlos möglich, auch ohne App-Download. Die Hamburger haben in den letzten Monaten all ihre Energien gebündelt, um Call of War auch für mobile Browser zu einem Erlebnis werden zu lassen. Ein komplettes Redesign des User Interface sorgt dafür, dass alle Funktionen aus der Desktop-Variante wie gewohnt zur Verfügung stehen und gleichzeitig ein völlig neues Spielerlebnis garantiert ist.
Der Trend hin zu mobilen Endgeräten ist ungebrochen. Gleichzeitig wenden sich immer mehr User von Apps ab und nutzen stattdessen Browsergames, die direkt aus Messenger-Services heraus gestartet werden können. "Der Vorteil liegt auf der Hand: Es sind keine Downloads notwendig, man kann sofort und überall spielen, mobil oder am Desktop", so Bytro-CEO Felix Faber. "HTML5-basierte Messenger bieten ganz neue Möglichkeiten für Spieler, vor allem im Multiplayer-Bereich."
Call of War, das sich derzeit in der offenen Betaphase befindet, unterstützt iOS-Geräte ab iPhone5 und Android-Smartphones ab Android 5.
Social-Media-Plattformen wie WeChat (China) oder VKontakte (Russland) bieten ihren Usern schon lange ein breites Angebot an Spielen, die vom Messenger aus direkt im mobilen Browser gestartet werden können. Im Mai diesen Jahres hat Facebook nachgezogen. Der Markt ist gewaltig: 1,2 Milliarden User hat allein der Facebook Messenger und damit potenziell auch die Spieleplattform Instant Games. Die Technologie dahinter ist HMTL5, der Web-Standard, mit dem qualitativ hochwertige und performance-starke Browserspiele geschaffen werden. Ein Heimspiel für die Firma Bytro, die seit 2009 auf HMTL5-basierte Spiele spezialisiert ist.
Über Bytro Labs
Bytro Labs GmbH ist ein gründergeführtes Unternehmen, das anspruchsvolle browserbasierte Onlinespiele sowie Mobile Games entwickelt und betreibt. Aktuell haben die Spiele von Bytro Labs 7 Millionen registrierte Spieler und sind in fünfzehn verschiedenen Sprachen verfügbar. Bytro Labs wurde 2009 von Felix Faber, Tobias Kringe und Christopher Lörken gegründet. Im Juni 2010 wurden sie durch das Land Baden-Württemberg mit dem Preis "Gründer des Monats" ausgezeichnet und im Herbst 2012 mit dem "Technology Fast 50 Rising Stars" Award von Deloitte. 2013 fusionierte das Studio mit der schwedischen Stillfront Gruppe, entwickelt jedoch weiterhin unter eigenem Namen Spiele.